September 2008

13 Emmy Awards for "John Adams"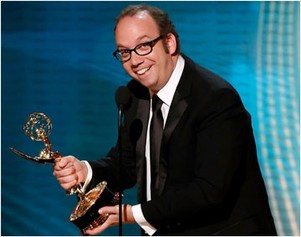 Actor Paul Giamatti with his Emmy for 'Best Actor'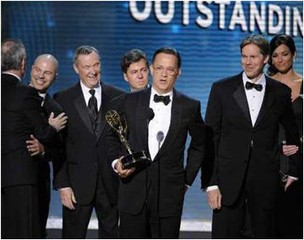 Tom Hanks and HBO producers accept their Emmy for 'Outstanding Miniseries'

LOS ANGELES, Sept. 21

HBO's miniseries about the life of the second U.S. President John Adams was a big winner at the Annual Primetime Emmy Awards last Sunday, bringing home prizes for best miniseries, best actor for Paul Giamatti, best actress for Laura Linney and other statuettes. The lavish "John Adams", which is currently being broadcast in the UK and released on DVD worldwide, won a total of 13 awards at the 60th Primetime Emmy Awards, a record for a miniseries. It received awards for casting, costumes, prosthetic makeup, visual effects, sound mixing, editing, cinematography and art direction.

While accepting his award for 'Best Actor', Giamatti joked that "I'm living proof to kids at home watching that anybody can play the president." HBO's star-studded miniseries produced by Tom Hanks also earned an award for Tom Wilkinson, who won for supporting actor as Ben Franklin, and the writing award for a movie or miniseries. The production was nominated for 23 Emmys altogether and had already won eight during the Creative Arts Emmy's given out last week.

The mini-series was broadcast last March in the US and has been released on DVD.
Jerome appears in the third episode, in the supporting role of Hugo, a Dutch Doctor opposite Paul Giamatti.